BOAT & YACHT BROKERAGE 
WE LISTEN & WE DELIVER

When you have decided to sell your yacht or boat, Boat Broker Pro is your trusted yacht broker and partner with extensive market knowledge to facilitate the sale of your valuable commodity.  Boat Broker Pro offers professional expertise and an extensive network of marine contacts to assist you in selling or purchasing your yacht or boat.  Brokers are used to distance the purchaser from the seller to ensure a successful negotiation and a premium outcome.  With a fresh and positive approach, at Boat Broker Pro we focus our energy with successful yacht and boat marketing campaigns that reach buyers across Australia, we monitor our marketing results and are agile in our response to this data, ensuring positive outcomes.
In his past thirty years in the marine industry, Boat Broker Pro Proprietor Jim Close has undertaken 200,000 nautical miles of professional yacht racing, (including five round the world yacht races and two Americas' Cups), and many thousands of miles of cruising as a Yacht Captain.  After owning several yachts himself, and running his own sailing school, he also designed and developed an award-winning X3 sailing dinghy for the Australian and global market.  Jim is ready to help you achieve the best result possible with your boat sale or purchase, and he looks forward to hearing from you. 
In order to sell your yacht efficiently, Boat Broker Pro ensures that we are constantly up to date with the latest marine market knowledge and trends. We are focused and are regularly monitoring the asking and selling prices, new additions to the market, price reductions and other trends in the boating and yachting marine industry.  This highly specialist knowledge enables us to advise you on the latest market fluctuations to ensure that your yacht is priced and marketed effectively.  
TESTIMONIAL:
Jim
Thanks for assisting me to sell my cabin cruiser. From the beginning of the process and your professional detailing of the boat to the eventual sale to a happy customer I have nothing but praise for the whole process. I have no hesitation in recommending your services in this regard and thanks again.
BARRY SERJEANT B Ec, Dip Ed, Grad Dip Fin Planning (Sec Inst)
Anderson Serjeant Pty Ltd  –  NSW
THE NICHE MARKET
Every yacht and boat is unique and will appeal to a different clientele.  Our team will work hand-in-hand with you to identify the unique selling points and market niche for your yacht or boat.  We will then put together a personalised marketing campaign that ensures results.
SELLING YOUR YACHT
At Boat Broker Pro we are relentlessly focused on the optimal result for our clients when they sell or purchase a yacht or boat.  Our experienced team researches and visits many yachts and boats every year, and has a unique understanding of the market.  Within 48 hours of signing an Agency Agreement with us, e-fliers can be prepared and distributed directly, yet discreetly, to potential clients.  In addition, we have personal daily interaction with yacht and boat buyers.  As part of our service, our website boatbrokerpro.com will also display your yacht's detailed specifications along with photos.  The same information will be displayed on the following online boat and yacht advertising sites: 
Additional online advertising sites that can also be utilised, dependent upon your marketing focus and budget.
At Boat Broker Pro we also are linked in and optimised with the main social media sites, and search engines, such as:
and listed on others…. such as yachtbrokers.com.au, yellowpages, and local www advertising.
Example of Boat Broker Pro marketing flyer:
THE NEXT STEPS
Boat Broker Pro will ensure that all the documentation for the yacht is up to date and ready for the eventual sale, assisting with the creation of specifications and inventories when needed, as well as exclusion lists for any items that you do not wish to be sold with the yacht.  On your behalf, we will follow up with every enquiry received on your yacht or boat, and monitor the performance of the online advertisements to ensure an optimal sales process.  Once a buyer is found, we will act on your behalf during the negotiation process and coordinate sea trials and surveys before finalising the completion of the sale.
ENCUMBRANCE CHECK

At Boat Broker Pro, we run an online check on the Personal Property Securities Register (PPSR) with the Australian Government to see if a vessel has money owing to a lender.  This safeguards purchasers from unnecessary financial loss.  If a boat or yacht is purchased by a new owner without knowing it is financially encumbered, (money owing on it), the new owner could have it legally repossessed and therefore lose the investment.  Please note that REVS, which stands for the Register of Encumbered Vehicles, is no longer available and has been replaced by the Personal Property Securities Register (PPSR) above.
Scam Information – Buying and Selling A Yacht or Boat Direct
Fortunately, most boat buyers and sellers are genuine, however there are some unscrupulous people in the world.  Please use common sense. Typically, in a scam situation the deal seems "too good to be true"!  These types of scams occur on the internet as well as ads in newspapers.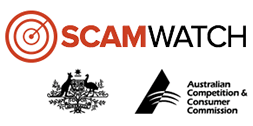 For more information relating to scams, visit www.scamwatch.gov.au , an independent website run by the Australian Competition & Consumer Commission (ACCC).
Selling your boat or yacht without a Boat Broker: scams that you should beware of:
The bogus boat buyer offers to pay more than the asking price.  The buyer will send you an overpayment cheque or payment by bank transfer, and then request that you pay them the difference.  Alternatively, they pay you the asking price and request you pay the "shipping costs".  The cheque then bounces, or the bank transfer fails, and you are suddenly out of pocket.
Don't be fooled:
Always make sure you know who you are talking to and who you are dealing with when selling your boat – request their name, address, email and phone number.  Beware of poorly worded emails from 'free' email addresses eg. gmail.  Scammers often claim to be overseas and wish to buy the boat sight unseen.  Never send any money back to the "purchaser", and be careful when responding to any email that requests your personal and financial information.  If you have listed your mobile phone number and email on your boat advertisement, beware of possible SMS, voice calls and email messages from scammers.
Buying a boat or yacht without a broker: scams that you should beware of:
Anyone can list a boat for sale on a website or put an ad in the newspaper with a picture of a boat.  Unfortunately, there are some people who list a boat for sale without ever owning it.  When you contact the boat seller, they request that you send some money as a "down payment" so that you don't "miss out".  Simply put, they take your money and run.
When buying a boat which is listed as a private sale, you deal directly with the boat seller.  Beware of scammers who tell you that the transaction will be done through direct sale websites.  Direct sale websites are NOT involved in the transaction between boat buyer and boat seller.
What to do:
Make certain that the boat seller is real.  Request the seller's name, address, email and phone number.  Also request proof of ownership of the boat for sale.  Sellers should be able to produce evidence of Title, Registration, and Hull Identification Number (HIN) on more recently manufactured boats.  Be careful if a seller is offering free shipping or relocation, as relocating a boat any distance can be costly and should be reflected in the asking price.  Be careful when responding to any email that requests your personal and financial information.
We hope this information helps for people buying and selling boats directly and hope it work outs well for them.  If you use the services of Boat Broker Pro, we will ensure that you avoid this situation.